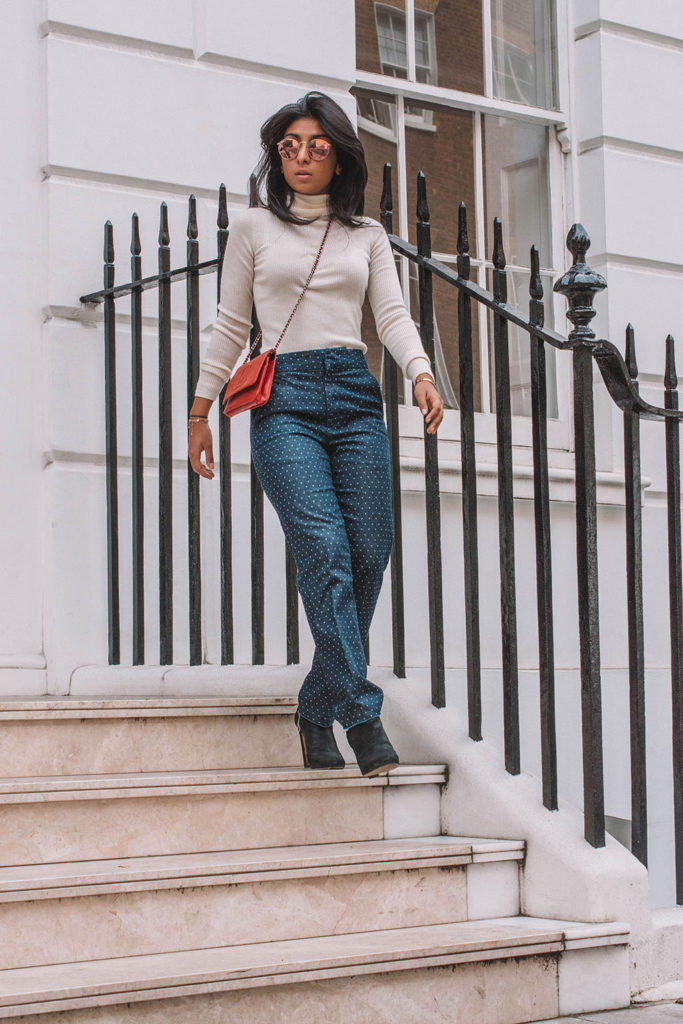 Jeans & a sweater don't have to be boring, they can be super chic...
As the weather gets colder, our heads are filled with wonderful layering outfit ideas, aren't they? But when it really comes down to it and we have 5 minutes to get dressed, we reach for our trusty favorites. For most of us, our favorite pair of jeans and a sweater usually do the trick. After a while, this combination starts to feel a little old and stale. No problem though, because today I'm sharing how you can take your trusty jeans outfit and elevate it!
I find that the easiest way to elevate my jeans and sweater outfit for fall and winter is by choosing a different pair of jeans. I paired my no-fail white sweater with this gorgeous pair of denim trousers from Joe's Jeans. Not only does the tailored fit instantly elevate my entire look, the pattern on it makes the whole combination feel so fresh. It's a super easy way to get that street-style star look in under 5 minutes.
If you're petite like me it can be really important to keep in mind what you pair with a pair of jeans like these. I really wanted the tailoring of the jeans and the pattern to stand out, so I paired it with a very plain top to keep the look casual yet chic. Plus, I needed to add some height to my silhouette so I went with some little black boots to pull the look together. Much like a little black dress, little black boots are a total necessity for your look! If I wanted to make this look a bit more formal, I would add a blazer. To take this look from desk to drinks, I would just keep it as it is and throw on a great red lip! What do you think?