As some of you may know from my Instagram, I've been in India for the past week! It's been an incredibly hectic week so far with a secret project in the works as well as attending a beautiful wedding! With a little bit more time here in Bombay, I wanted to share all the outfits I've been wearing so far and where you can get them too! I hope you enjoy the Indian outfits (For all my Indian followers who have been asking me where I got these made, all the details are below!) and it gives you an idea of what to wear in India too! This past week has been a bit more glamorous than usual but a little sparkle never hurt anybody right?
After landing into Bombay last Tuesday, I immediately jetted off to New Delhi where I was attending a wedding. Indian weddings are usually a four-day extravaganza of colour and shine. There were five events in total but I'm sharing some of my favourite looks with you. It's one of the few times I really get to get all dolled up and wear as many sparkles as my heart desires! Now that I'm back in Bombay, I will be sharing some more casual looks as well but till then, scroll down to see what I've been up to!
I landed in and had to prep for a secret project! I can't wait to share more but for now, I can show you the awesome new sunnies I got! Unfortunately, they were lost over the weekend but I am determined to find them! These ray-bans are the most flattering shape ever! I also am lucky enough to have gotten my hands on these adorable new bracelets from the Dior cruise collection! Such pretty colours!
Sunglasses: Ray Ban
Bracelets: Dior
Lip Colour: Nars Do Me Baby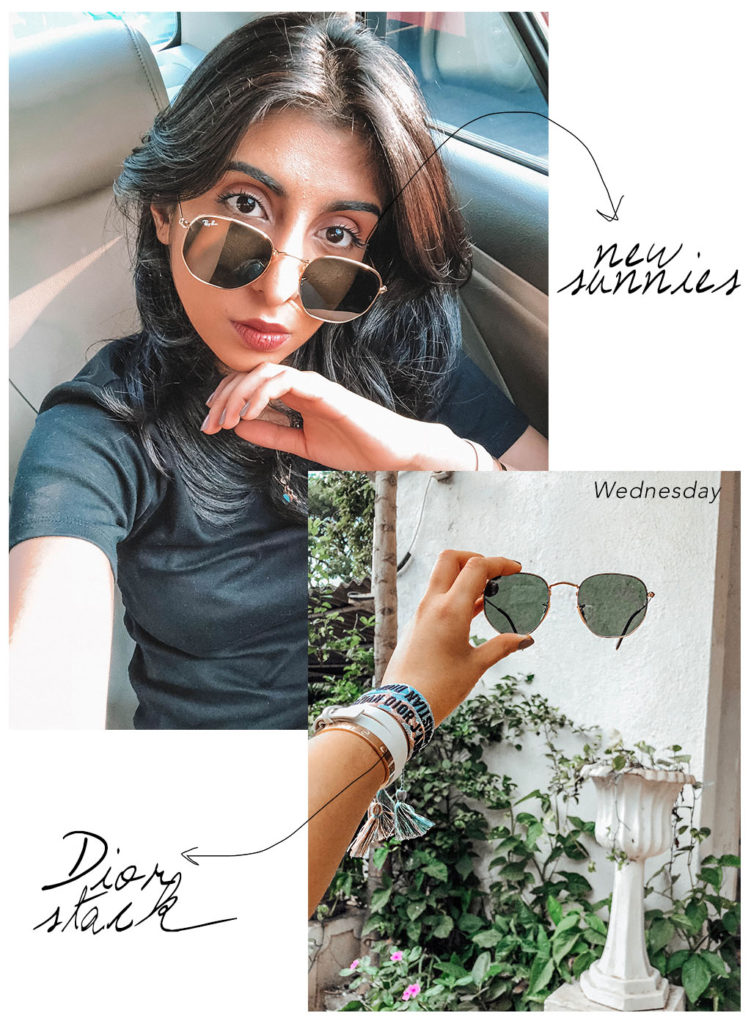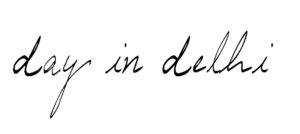 The next day I was off to Delhi to attend a wedding! The festivities kicked off with a lovely dinner and the next day I sported this jumpsuit! You will never guess where it's from! It's super chic and super affordable! I also wore these shoes for almost every single event underneath all my huge outfits - they were super comfortable and let me stay on my feet all day and night!
Jumpsuit: Next
Shoes: Valentino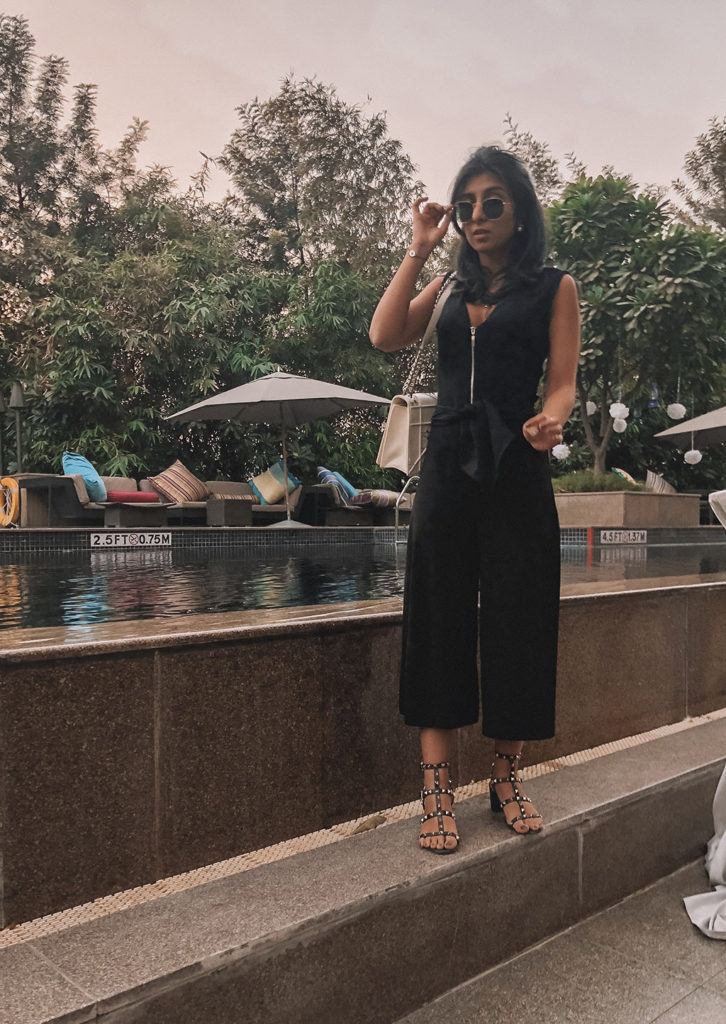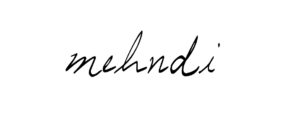 The following day was something called the "mehndi" and the "sangeet". This is the henna ceremony where the bride and all the women get beautiful henna work done on their hands! The sangeet is when both the bride and grooms side perform dances and skits! It was a beautiful day with bursts of colour! I wore a yellow sari!
Sari: Bharavi Jaikishan
Sunglasses: Ray-Ban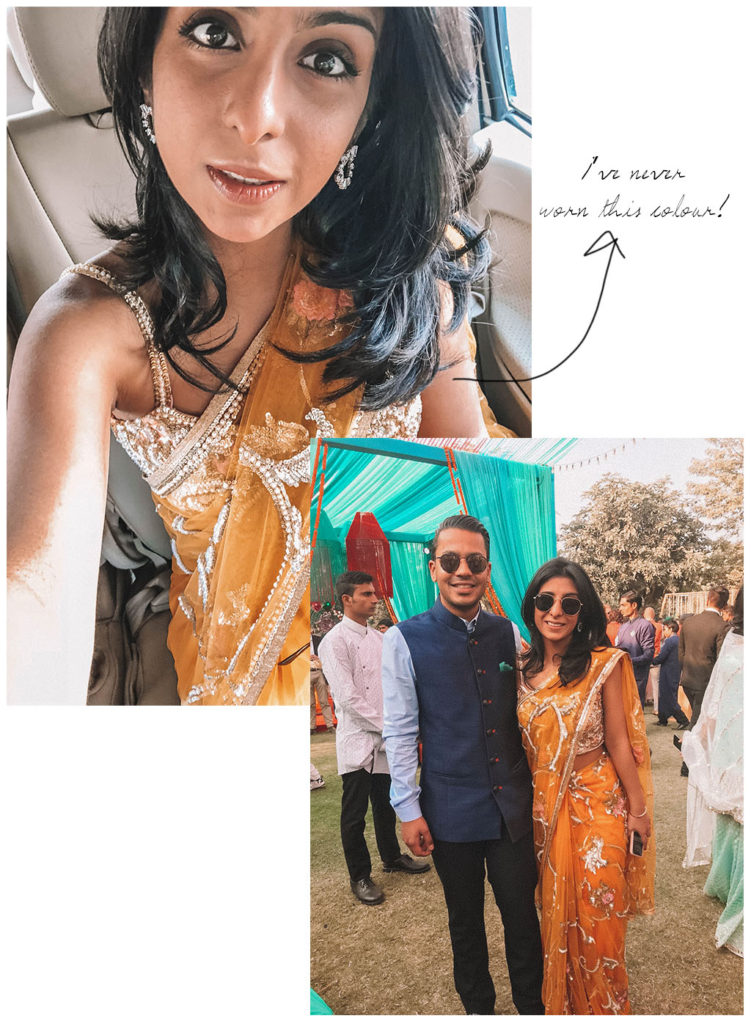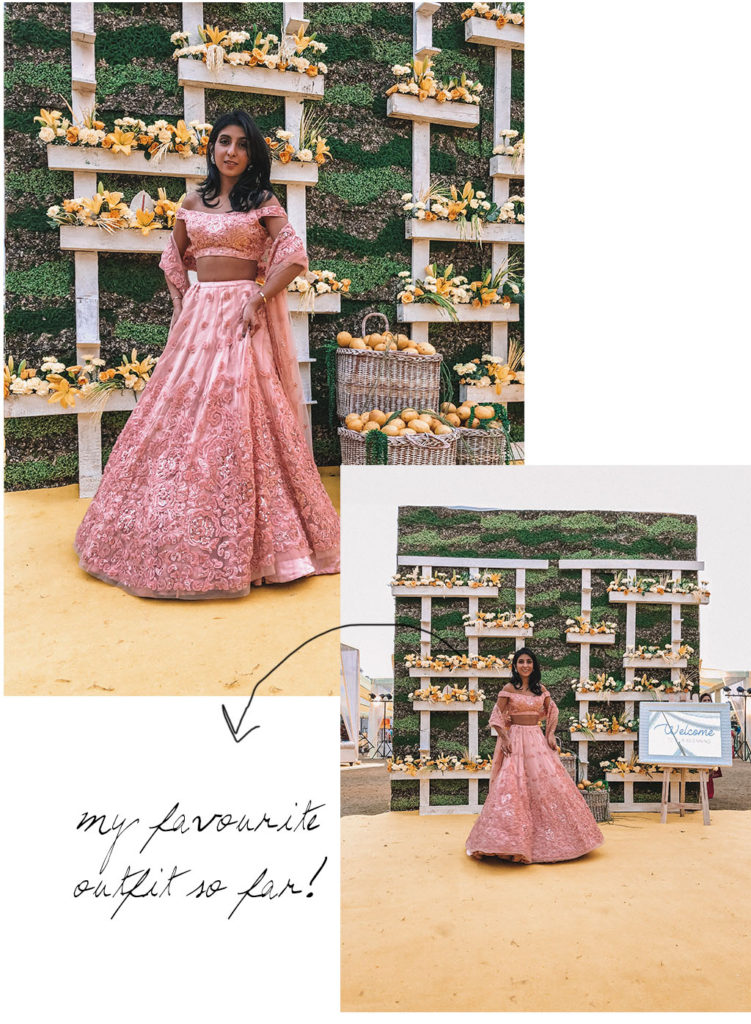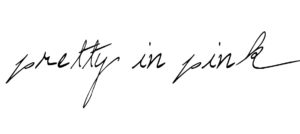 This was by far my most favourite outfit. I got so many DM's from you guys on Instagram asking me where I got this lehnga from. This particular piece is from one of my favourite Indian designers, Pallavi Jaikishan. I loved that the blouse was off-shoulder and this particular shade of pink is one of my favourites for sure! Plus the humongous skirt made me feel like a total princess!
Lehnga: Pallavi Jaikishan
Which Indian outfit is your favourite? What else do you want to see from my trip?